Ministry Literature
These are excellent tools to help spread the Exodus Mandate message.  If you will send us your mailing address and contact information, you may request a free copy of each brochure and free a bumper sticker.  We also can provide brochures and bumper stickers in larger amounts at a minimal cost.  Please, contact us for the details.
---
An Old Testament figure, what Jonadab did in his family and the faithfulness of his descendants has worked for time and eternity. Not a king nor a prophet, not a judge nor a general, just a father. He lived in the darkest of times for the people of God, yet he succeeded as a parent. He was so successful in fact that, other than to the patriarchs, God made the most extraordinary promise for a father concerning Jonadab. In a time of spiraling moral and theological decline, this book encourages Christian families not only to stand but to pass the torch of their faith securely throughout generations. Click the link to order a copy!
Suggested donation $20.00 | Order Now

---
A great new DVD to encourage Christian parents to remove their children from public schools and enroll them in the safe sanctuary of private Christian schools, home school, or online Christian education. It also explains the origins of Common Core and exposes the agenda of the Socialist worldview, the danger of it, and why Christians cannot participate in it. Click the link to learn more and order a copy!
Suggested donation $20.00 | Order Now
For bulk copy discounts, please visit www.escapecommoncore.com.
---
Truth is Fallen in the Street: Examining the Pedagogy of Christian Teachers in Public Schools, by Jay Jusino. Parents send their children to school, and students attend school, with the expectation that they will receive knowledge, and that this knowledge will be the key to unlocking their future potential. The Bible teaches clearly that it is the fear of the Lord that is the beginning of knowledge (Prov. 1:7). As such, acknowledgement of God is fundamental to any and all knowledge-based pedagogy. To teach academic subjects apart from Christ, in whom are hidden all the treasures of wisdom and knowledge (1 Cor. 2:3), is to fundamentally disconnect the world we all see and live in from the One it was created by and for. In this work, the Christian teacher in the public setting is challenged to re-examine his/her fundamental pedagogical approach in light of the premise of Proverbs 1:7 and Colossians 2:3.
---
This impressive new companion guide to the award-winning documentary film, presents loads of supplementary information from the filmmakers, those interviewed in the film, and others, seeking to destroy the myth of neutrality in education, expose the anti-Christian roots and teaching of the American public school, and explore biblical principles of education. Over 30 contributors, including: R.C. Sproul, Jr., Ken Ham, Doug Phillips, Voddie Baucham, Jr., E. Ray Moore, Kevin Swanson, Israel Wayne, John Taylor Gatto, Erwin Lutzer, and many more.
Suggested donation $20.00 | Order Now

---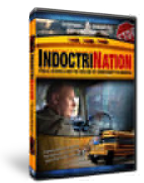 INDOCTRINATION – PUBLIC SCHOOLS AND THE DECLINE OF CHRISTIANITY IN AMERICA
A family field trip exposes the shocking truth behind your child's public school. If you're not ready to take a hard look at the true state of public education, you will not want to view this unflinching documentary. But you must! Winner of the 2012 Best Documentary Award at the San Antonio Independent Christian Film Festival. "Every Christian parent with a child in a government school should see this…" —Cal Thomas, syndicated columnist
Suggested donation $20.00 | Order Now
---
By Dr. Bruce N. Shortt, a homeschooling father of three who practices law in Houston, Texas. He also previously served on the board of Frontline Ministries, Inc. and the Exodus Mandate Project. The foreword is by T.C. Pinckney. This book combines a sound Biblical basis, rigorous research, straightforward, easily read language, and eminently sound reasoning. Whether one is a parent or parent-to-be, pastor, church staff member, or educator, this book has much to offer.
Suggested donation $25.00 | Order Now
---
By E. Ray Moore. American schools receive the highest funding in the world yet consistently rank near the bottom in mathematics, physics, and science. Despite the failings of public schools, more than 80% of evangelical Christians place their children in the public school system, exposing them to physical and moral danger on a daily basis. The Biblical instruction of our children may be the thrust that God could use to restore American society and revive the nation. A fresh obedience by the Church to its God-ordained role in education may be the catalyst for a new Great Awakening.
---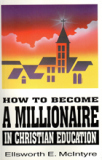 Dr. Ellsworth E. McIntyre will show you how to build your own school from scratch and become financially independent at the same time; how to oppose entrenched evil in this world without resorting to politics or guns; how to rebuild your society from the bottom up so that your children will live in a different world; and how to do all of the above without personal sacrifice or personal hardship.
Suggested donation $8.00 | Contact Us to Order

---
Protester Voices is a first-time, first-hand account of the 1974 grassroots uprising in Kanawha County, West Virginia, also known as the Textbook War. Parents, objecting to anti-Christian and anti-American textbooks, shut down the state's largest school system and garnered attention worldwide. This incident has been called "the first shot in the cultural war" and some believe was the beginning of the modern conservative movement.
Suggested donation $25.00 | Order Now

---
By David & Kim D'escoto. A concise and compelling book about why homeschooling is a family's best option for educating its children. In a friendly conversational tone, David and Kim address the benefits of home education to mind, body, and soul while answering the tough questions about homeschooling— academics, socialization, spiritual training, and more.
---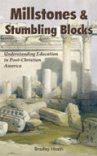 By Bradley, E. Heath. Much of the timber of public schooling and evangelicalism is as dry as kindling; Millstones & Stumbling Blocks is an open flame. Don't read this book if you insist on believing that Christian children should be educated in public schools, that American evangelicalism is on the right track, and that there are political remedies for our cultural illnesses. Do read this book if you'll consider that the above points may not be true, you are unhappy with the educational status quo, and you accept the responsibility to read, think, and act.
---
This 5 minute DVD gives a strong challenge for parents and pastors to remove Christian children from the pagan public schools and instead, provide for them a Christian education in private Christian schools or home schools. The DVD is a good tool to show in church meetings, Sunday school classes, Bible studies, and other groups.
Suggested donation $5.00 | Contact Us to Order
---

Included in this set is two dynamic presentations by Dr. Voddie Baucham, Jr. Whoever Controls the Schools Controls the World Dr. Voddie Baucham knows what most parents are too quick to dismiss: whoever is teaching our children is also discipling them.
---

Consisting of a well-organized collage of interviews, Home Education: A Compelling Documentary allows viewers (especially those outside of the homeschool movement) to take in the family-oriented world of Christian home education. This DVD communicates the powerful message that Christian home education is perhaps the most powerful and effective way in which to bring the Lord into our children's lives as well as reintroducing Him to our culture." – James Boyes, Host, Christian Education Awareness Network (CEANet)
OUT OF STOCK