Exodus Mandate is a Christian ministry to encourage and assist Christian families to leave Pharaoh's school system (i.e. government schools) for the Promised Land of Christian schools or home schooling.
It is our prayer and hope that a fresh obedience by Christian families in educating their children according to Biblical mandates will prove to be a key for the revival of our families, our churches and our nation.
Exodus Mandate is a wholly owned project of Frontline Ministries, Inc., a tax-exempt, 501 (c) 3 non-profit ministry dedicated to impacting culture with the Christian Faith. Neither Frontline Ministries nor any of its outreaches, such as Exodus Mandate Project, participate in lobbying, legislative activities or partisan political campaigns.
---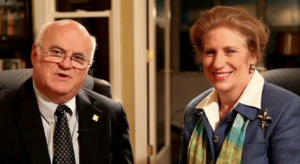 E. Ray Moore and Gail Pinckney Moore

E. Ray Moore (Chaplain, Lt. Col. USAR Ret.), has served for over thirty-five years in pastoral ministry as a campus pastor, a congregational minister, an Army Chaplain or Director of a Christian ministry. Additionally, he has served as a campaign consultant or staff for several major political campaigns, including former Vice-President Dan Quayle's first Senate race in 1980, former Congressman Mark Siljander's first Congressional race in 1981 and Pat Robertson's Presidential Campaign in 1986 to 1988.
A South Carolina native, he is a graduate of The Citadel with a B.A. in political science and was graduated from Grace Theological Seminary cum laude with a M.Div. (Master of Divinity) in 1974 and with a Th.M. (Master of Theology) in 1979. He served nineteen years as an Army Reserve Chaplain, retiring as Lt. Colonel in 1999. He was awarded the Bronze Star for service in Gulf War I.
Ray is married to the former Gail Laurens Pinckney of Charleston, South Carolina. They have four children and seven grandchildren. He and Gail were selected as S.C. Parents of the Year for 2000. Ray and Gail have had a long-term involvement in private Christian education or home schooling.
Ray, a co-founder of Frontline Ministries, Inc., currently serves as the President of the Board.  Exodus Mandate is a project of Frontline Ministries, which focuses on prayer, revival and Christian education.  Ray is author of  Let My Children Go and co-authored with his wife, Gail, The Promise of Jonadab: Building a Christian Family Legacy in a Time of Cultural Decline. He is also the Executive Producer of the award-winning film, IndoctriNation: Public Schools and the Decline of Christianity in America.
Lee Adams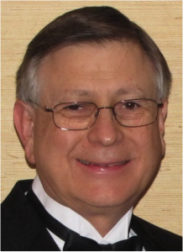 Lee Adams, who helped found Frontline Ministries with E. Ray Moore in 1994, is currently serving as Executive Director of Frontline Ministries, Inc. and the Exodus Mandate Project. He is committed to promoting and advancing the goals of the Exodus Mandate Project and Frontline Ministries. Lee has an M. Div. from Western Seminary (in Portland, OR), and served for a number of years with Campus Crusade for Christ, and with TEAM in Austria. He also worked as the Executive Director for City Light Columbia for several years, served as President of CBMC (Connecting Business Men to Christ) in Columbia and as the SC State Coordinator for the National Day of Prayer for 5 years.
Lee and his wife, Susan, have been married for 37 years. They have 3 grown children (all were homeschooled) and a 4 year-old grandson and 1 year-old granddaughter. Susan works part-time as an R.N. at Palmetto Health Baptist Hospital on the Adult Psych unit. Lee also has been interested in health since he was young and became involved in the nutrition and health industry in 2001. Both are concerned about the health, or lack thereof, within the Body of Christ and they desire to help God's servants become better stewards of their health.