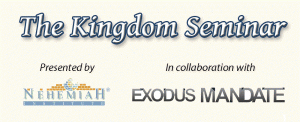 Hello Friends,
We are hosting Dan Smithwick and the Nehemiah Institute for The Kingdom Seminar, a Christian worldview training seminar for local pastors, community leaders, businessmen, influencers, and other professionals. This seminar consists of three 60-minute presentations on the loss of Judeo-Christian heritage in our nation and the cultural application of scriptural principles needed to restore it.
Session #1: An Amazing Story. Overview of World History from God's Perspective
Session #2: A Troubling Story. Past 30 Years of Youth Worldview Changes
Session #3: A Forgotten Story. Past 100 Years of American Worldview Changes
Visit Eventbrite to RSVP.
Visit the Nehemiah Institute for more details about the seminar.